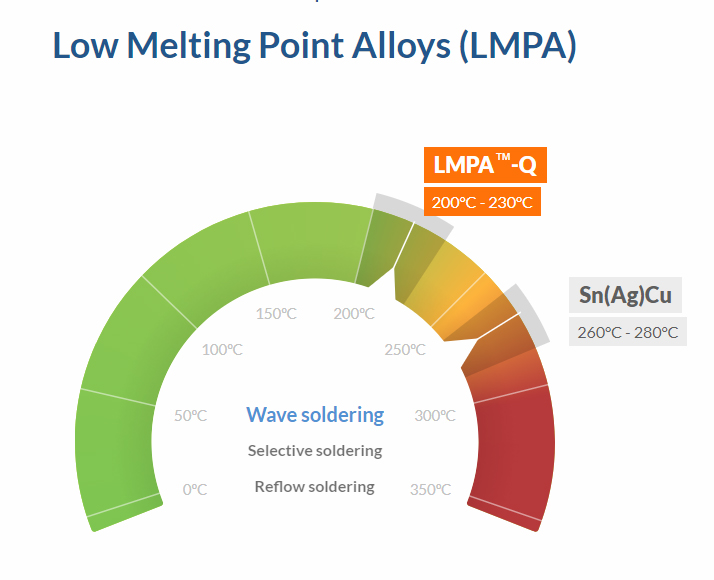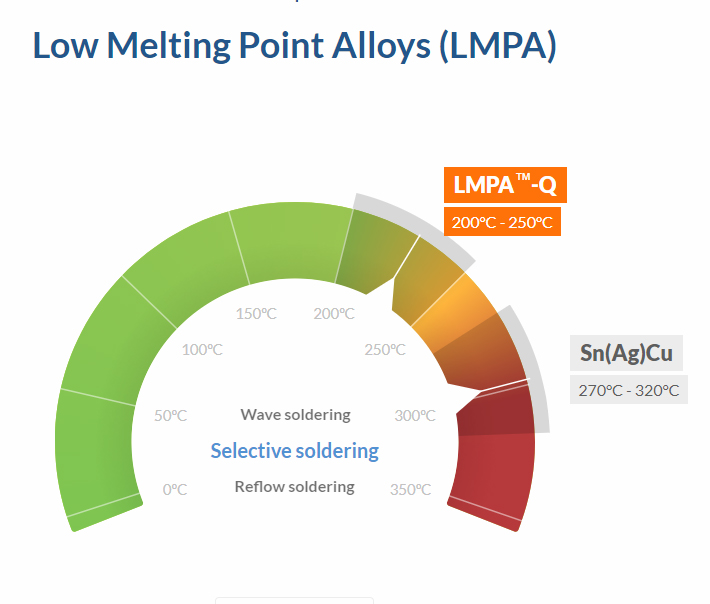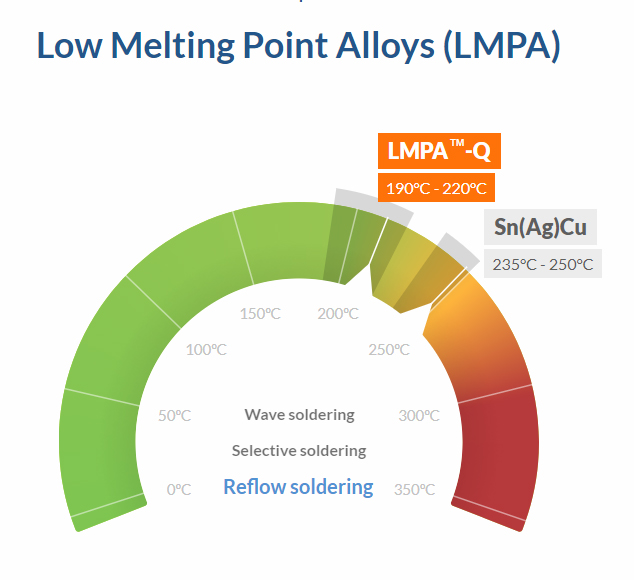 What are LMPA?
LMPA
LMPA™ is short for Low Melting Point Alloys™. These alloys allow you to use soldering temperatures that are considerably lower than for the traditional lead-free Sn(Ag)Cu (SAC) alloys.
LMPA-Q
LMPA-Q™ is an enhanced LMPA™ with superior mechanical properties. It's without exception the best alloy we have developed so far. The benefits are numerous.
What LMPA-Q will allow you to do
For all soldering processes
LMPA™-Q can be used for all soldering processes:
Wave soldering Selective soldering Reflow soldering
LMPA-Q: 200°C - 230°C LMPA-Q: 200°C - 250°C LMPA-Q: 190°C - 220°C
Sn(Ag)Cu: 260°C - 280°C Sn(Ag)Cu: 270°C - 320°C Sn(Ag)Cu: 235°C - 250°C
5 times faster solderingwith zero defect
LMPA™-Q allows for up to 5 times faster production speeds than Sn(Ag)Cu alloys in combination with lower preheat and soldering temperatures. LMPA-Q provides easy through hole wetting on thermally heavy components and all finishings including OSP. Moreover, the low oxydation and bridging behaviour of LMPA-Q will facilitate a zero defect process.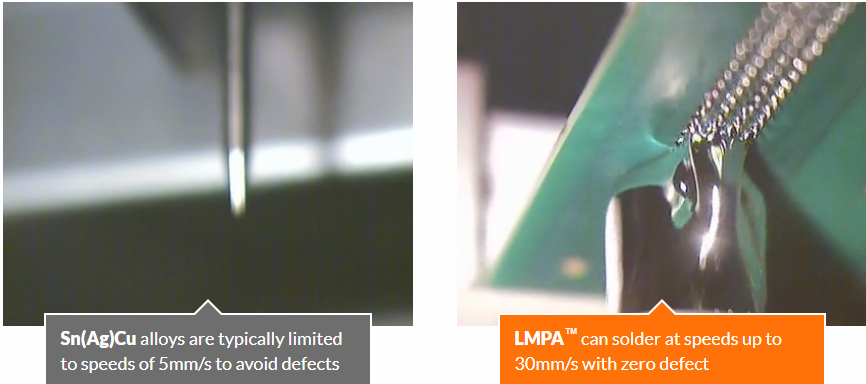 Drastically reduce solder voiding
Void formation under components with large soldering planes and low stand-off heights, such as QFN components, is a well-known phenomenon. These air pockets can reduce mechanical strength as well electrical and thermal conductivity.
For Sn(Ag)Cu-based alloys, voiding levels are typically in between 10% and 35%.
With the LMPA™-Q alloy voiding levels can be reduced to between 1% and 10%.
Sn(Ag)Cuvoiding 10% to 35% LMPA™voiding 1% to 10%
Reduce production costs
20%-25% lower electricity bills
Because of the lower process temperatures, soldering with LMPA™-Q will reduce electricity consumption in between 20%-25% compared to Sn(Ag)Cu alloys.

95% less wasted alloys
Due to its low oxidation behavior LMPA™-Q will produce 95% less dross in wave soldering without nitrogen compared to Sn(Ag)Cu.

Soldering without nitrogen
Nitrogen is often used for cooling, to prevent boards and components from overheating. With LMPA™-Qyou will no longer need nitrogen during wave and reflow soldering.

Lower alloy cost
LMPA™-Q does not contain silver (Ag). This can significantly lower the alloy cost up to 40%.

Higher first pass yields
Soldering with the LMPA™-Q alloy can substantially increase first pass yields, especially on electronic units with heavy thermal mass.
Reduce repair costs
Eliminate heat-related failures
The lower soldering temperatures of the LMPA™-Qalloy will virtually eliminate heat-related board and component failures and allow the use of lower cost materials
Reduce material cost
Avoid heat related board and component failures
Current lead-free soldering temperatures can damage or predamage temperature sensitive components and PCB board materials. Furthermore they can also cause a shift in the properties of some components which can impact the functionality of sensitive electronic circuits.
Affected components can for example be: Capacitors, BGAs, LGAs, fuses, displays, crystal oscillators, LEDs, displays, components with a plastic body, coils and transformers,...
The LMPA-™Q low melting point alloy allows for lower soldering temperatures and virtually eliminates the risk on damage by thermal stress, facilitating the use of temperature sensitive components and PCB board materials.
Eliminate dross formation
The LMPA™-Q does not need nitrogen for wave soldering. Due to its low oxydation behaviour, dross formation is reduced to an absolute minimum.
SAC 305 dross after 7 production shifts ≈ 7kg LMPA™ dross after 7 production shifts ≈ 0.4kg
Excellent wetting
The LMPA™-Q alloy gives excellent wetting on all finishings, including OSP.
Developed with38 years of experiencein soldering chemistry
Interflux® Electronics NV has been researching and developing soldering chemistry since 1980. That's 38 years of know-how bundled into the LMPA™. That's your 37 years of guarantee that what we deliver is of unrivaled market-leading quality in soldering fluxes, solder wires, solder pastes and spray fluxers for the electronics assembly industry.
Soldering chemistry is what we love and do best.
---
AJÁNLOTT TERMÉK

---