SOLDER ALLOYS

Technical Data Sheet Lead Free Solder Alloys
Technical Data Sheet SnPb(Ag) Solder Alloys

Technical Data Sheet Lead Free Solder Alloys
Technical Data Sheet SnPb(Ag) Solder Alloys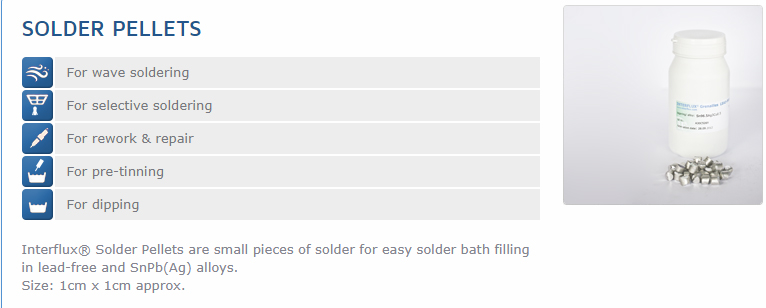 Technical Data Sheet Lead Free Solder Alloys
Technical Data Sheet SnPb(Ag) Solder Alloys
LMPA Solder Alloys
SnBi based low melting point soldering alloys
Description
LMPA™ Solder alloys are high purity low melting point soldering alloys.They exhibit very low dross formation in wave soldering machines without nitrogen. The use of LMPA™-Oil is advisable for initial filling and maintenance. In selective soldering machines, the use of nitrogen is advisable. LMPA™ Solder alloys give much less Cu dissolution from the PCB board than Sn (Ag)Cu alloys. Beside their use in wave and selective soldering, the alloys are also available as a solder paste for reflow soldering. The LMPA™ alloys have increased mechanical properties compared to the SnBi(Ag) alloys. This makes them the perfect drop-in alloys for many electronic applications that are today being soldered with Sn (Ag)Cu alloys . The low melting point of LMPA™ alloys allow for lower solder bath temperatures and lower or shorter preheating profiles. This will result in reduced energy consumption, lower costs and increased line capacity and production speeds. Board and components will experience less stress, resulting in less ageing and longer life time of the electronic unit.
Key properties
Fast through hole wetting

Much less Cu dissolution

from the PCB

Reduced cost of production

Increased line capacity

Lower thermal stress on the electronic unit

Longer life time of the electronic unit
Health and safety
Please always consult the safety datasheet of the product.
alloy
melting T°
packaging
LMPA™-Q
139°C-176°C
+/- 320g bars in 20 kg box (box size: ~24x15x8cm)
+/- 2,5kg bars in 18,5 kg box (box size: ~27x20x8cm)
Stones +/- ø 37mm x 15mm in 2,5kg jar
2mm plain wire on spool
3mm plain wire on 4kg spool
---
AJÁNLOTT TERMÉK

---