WEZ ESD Products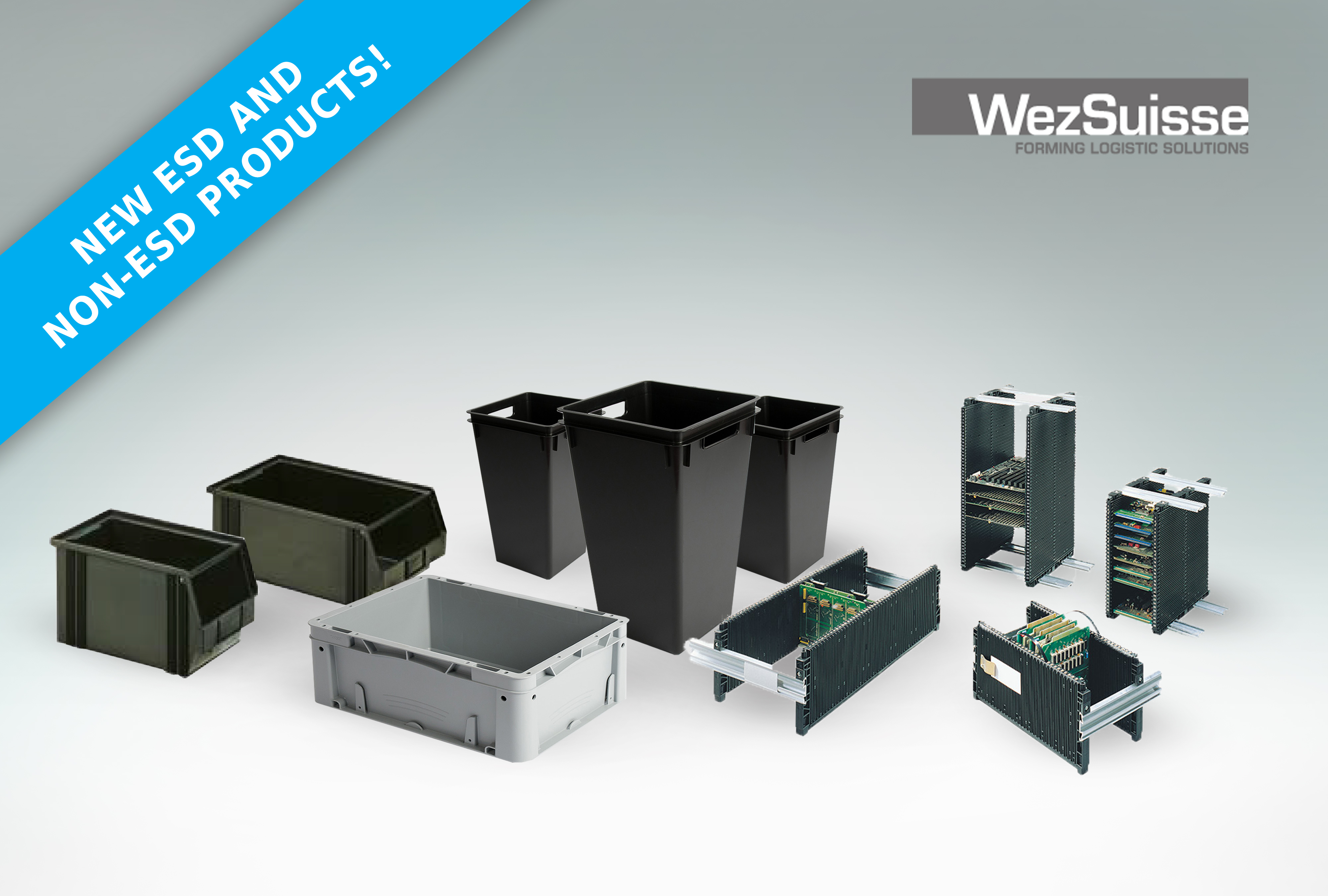 Chemical stability
Resistant to:
• water • weak acids • strong alkalis • inorganic salts • alcohols • aldehydes • amines • mineral oil • fats and oils
Partially resistant to:
• strong acids • hydrofluoric acid • halogens • paraffin hydrocarbon • halogen-alkanes • ester • ketones • organic acids • aromatic compounds • fuels • ether
Physical loads
• UV-stable • antistatic and stain-resistant • weatherproof • 5 year fatigue guarantee
LOGILINE
• compressive stacking load up to 700 kg for Euro-standard containers • base Load from 10 to 65 kg
• high impact strength, tested by drop-test case 2.5 m / 15 kg at –20 ° C and 4.0 m / 15 kg at + 20 ° C
• continuous operating temperature from –20 ° C to + 100 ° C
• base designs for excellent handling and quiet movement on conveyors
BLACK LINE
• IEC 61340-5-ff-tested and certified • high impact strength, tested by drop-test 1.5 m/15 kg at –20°C and 2.5 m/15 kg at + 20°C
• Continuous operating temperature from –20 ° C to + 80 ° C • Conductive execution, dissipative to 10⁴ ohms / cm³
• dissipative design, dissipative to 10⁶ Ohm / cm³ • short-term temperature stability to 120 ° C
• compressive stacking load up to 700kg for Euro-standard containers • base loading from 15 to 65 kg
Cleaning
• Suitable for fully automatic washing plants up to 120°C • Resistant to ultra-sonics • Suitable for stationary units
• Suitable for mobile units • Resistant to all common detergents
• We will gladly provide recommendations for suppliers and service providers on request
Recycling
• Polypropylene (either coloured or as an electrically conducting material) can be completely recycled.
• Within a specifically defined process, such as with pool containers or when replacing larger stocks of containers, recycling has no difficulty conforming to food regulations and is absolutely harmless.
• During recycling, residues, labels or printing are removed completely in a reliable, controlled process.
• The recycling of PPC containers is most economical and eco-friendly. Alterations to the material properties are insignificant.
• All products on offer in t his catalogue conform to the current requirements of RoHS and REACH.
Storage
• wez containers ensure and guarantee optimal space utilisation in small par ts storage
systems thanks to the containers' unique low taper-angle (max. 2 mm depending on the containers height)
• We offer customised containers with perfectly matching dimensions and properties in order to satisfy specific requirements with respect to storage space, handling and transport.
Transport
• Whether open or closed, our robust containers provide good ventilation and protection against drying out or contamination.
• They are ideal for bulk or packed foodstuffs and nonfood articles including waste products or returning goods.
• Standard containers ensure logistics independent of a specific company. Thus ensuring high frequency and delivery times for distributing goods.
• Perfect protection against physical influences. • Very attractive for presentations on the shop shelf without repacking
• RFID or barcode labelling
ESD-Protection
• Blackline products offer ideal ESD protection • ESD protection is particularly important where there are seasonal variations and low humidity.
• Attention is also increasingly being given to ESD protection in servicing and maintenance of vehicles, plant and machinery, especially in Central Europe.
Packaging
• For optimal protection, the appropriate insert made from foamed plastic or deep-drawn parts is always available for
every case. • Ideal for control purposes, wrong components are recognised immediately.
• Carrying cases for high-grade electrical and measuring equipment. • Case systems can also be used, for example, to create ESDcompliant environments for service and maintenance.
---
AJÁNLOTT TERMÉK

---